Application
Admission Criteria
Grade point average (GPA) in previous studies of at least 2,5* (German grading system)
Sound knowledge of economics: micro- and macroeconomics and quantitative methods.
Sound knowledge of English
   

Test of English as a Foreign Language (TOEFL) of at least 100
or the International English Language Testing System (IELTS) score of at least 7.0 overall.
Native speakers from certain countries might not be required to present the results of the TOEFL or IELTS but this is not always the case. Please ask us in advance.
Candidates with previous studies in English must still provide evidence of sound knowledge of English.
Official Admission Regulations
Official Admission Regulations in German
Translation of the Official Admission Regulations into English (non-binding)
Desired Profile of Applicants
Enrollment for the Master of Science Program in Economics is limited. Each fall we enroll individuals distinguished by academic excellence, high potential, and a broad range of backgrounds and experiences. What the admitted candidates do have in common is the ability to benefit from, and contribute to, our academic community. We evaluate applications according to three main criteria:
Strong academic aptitude
Determination
Diversity
Strong academic aptitude
Because the Master program at the Economics Department is rigorous and challenging, prospective students must possess a solid academic foundation. We are particularly interested in quantitative and analytical skills, because our core courses require a comfort with and facility for quantitative and analytical concepts.
Applicants need to have a qualified Bachelor degree, Diploma, or Master's degree from a recognized university with one of the following majors:
For all programs: Economics, business administration, business informatics, industrial engineering.
In Addition, we accept applications from candidates with one of the following backgrounds: For the profile Economics and Politics: political science, public administration, for the profile Finance: financial mathematics, mathematics, statistics, and for the profile Information Systems and Network Economics: computer science and information science.
Upon special permission we also admit students with different academic backgrounds. Regardless of their majors we expect people to have a very solid command of microeconomics and macroeconomics at an intermediate level. A sound knowledge of calculus, linear algebra, and differential equations are strongly recommended. However, we do not evaluate applications solely on 'the numbers' or on the degrees. Instead, we look at your entire profile, hoping to find as many strengths in as many areas as possible.
Determination
In addition to proven academic achievement, we are looking for candidates with a sincere desire to become intellectually engaged both in the formal classroom setting and through various projects, both individually and with their fellow students. Your motivation, your communication and social skills, your energy level, and the extent to which you have taken advantage of opportunities and resources available to you are also important to us.
We expect you to be determined to succeed in your studies and to be devoted to work with your fellow students to achieve your common goals. We appreciate broad intellectual curiosity, team spirit, and leadership qualities. We also request a statement of intent.
Diversity
We aim at creating a community of diverse backgrounds and interests because we believe that diversity will make learning experiences richer and help us to put learned views into perspective. We also believe that the interaction of people with different cultural backgrounds and experiences, different ethnicities, nationalities, and gender will create valuable interpersonal skills needed as leadership qualities in a modern world. It will also make the Economics Department a stimulating place to learn and expand one's horizons.
Deadlines for Application
Application process is closed at the moment.
The new application phase is expected to open on March 18, 2020.
The link for the online application will be provided on the day the application period starts, March 18, 2020.
Following the application deadline, the admission board will evaluate all complete applications. Applicants are notified of early acceptance, rejection or postponement of the decision via email that your have registered online.
Important: You are encouraged to apply earlier such that, in case of missing documents or problems with your application, you can be informed prior to the deadline.

Final application deadline: May 15, 2020
Early applications are strongly encouraged!

Note: For urgent situations (Visa issues, scholarships, etc), send your application to this email: mep.admission@vwl.uni-freiburg.de . However, you must still apply online during the application period.
- You will be notified by e-mail that you have registered online upon receipt of your application.
- Only complete applications will be forwarded to the admission board!
- Final round of notification of admission decisions will be made by July, 2020.
Application Procedure
Enrollment is restricted. In order to create a dynamic community of able and successful students we require students to document the following abilities and to submit the respective documents during the online application:
Scanned copy of your original Bachelor degree
Scanned copy of your original transcript
Scanned copy of the official translation of your original Bachelor and transcripts of records (if not in German or English or other accepted languages)
Scanned copy of the evidence of command of English
Curriculum Vitae
Letter of intent
Signed declaration of not having lost the right to examination (Template)
Scanned copy of the APS Certificate for applicants with Bachelor degree from China, Mongolia, Vietnam.
Recommended additional documents in case your background in Economics is not very strong:
GRE / GMAT
Recommendation letters from two professors of  previous studies or former employers.
 You can find more detailed information here:
- Information Sheet Application 2020

  * In order to know how to convert your GPA to the German grading System, you can apply as an orientation the modified Bavarian formula: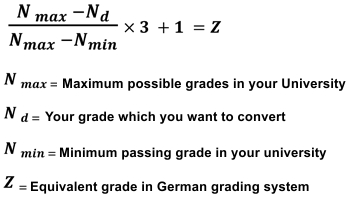 You can also access this pdf file provided by Geschäftsstelle der Wirtschaftswissenschaftlichen Prüfungsausschüsse.
Additional Information for applicants from the P.R. China:
- Additional info for applicants from the P.R. China
How does a certified copy look like? (second page in English)
Budget, Visa and Health Insurance
Budget
All non-EU students have to pay an additional state-fee of 1500 EUR per semester.
The following list provides an indication of living expense components.
Registration fee (per semester): EUR 155
Books etc. (per semester): approx. EUR 100
German Language course: approx. EUR 160 per semester
Student housing: EUR 280-450 (monthly), or off campus (private) - from 300EUR (monthly)
Medical insurance : approx. EUR 105 (monthly)
Transport: Regional transportation at special student fare: approx. EUR 94 (per semester)
Please note that while you are a student and do not have a working permit, you are allowed to work up to 120 days (240 half days) per year.
Currently, there are no scholarship schemes or other financial assistance from the university. Please consult the websites listed below for scholarship possibilities:
- DAAD: scholarship database
- University of Freiburg: Studierendenportal-Finanzen
- Studentenwerk Freiburg (SWFR) for further advice on financial issues
Visa
EU citizens and citizens from some other countries as e.g. Australia, Canada, Honduras, Iceland, Israel, Japan, Liechtenstein, Monaco, New Zealand, Norway, the Republic of Korea, Switzerland and the United States do not need a visa. Students of other nationalities must apply for a visa for study purposes via the German diplomatic representation in their home country. It is very important that you do not under any circumstances travel to Germany on a tourist visa, as such a visa cannot be converted into a visa for study purposes, whilst you are staying in Germany.
For detailed information, please refer to the German embassy in your country of residence.
Health Insurance
To be able to enroll, you must take out a health insurance policy. Students in Germany currently pay a fixed rate of about EUR 105 per month for health insurance, regardless of which insurance company they choose. International students from countries with which Germany has a Social Security Agreement including an insurance clause (e.g. EU and EEA countries) may remain insured in their home country, but have to provide proof of health insurance ("European Health Insurance Card (EHIC)") to gain exemption. Students may also purchase a package deal insurance, e.g. from the DAAD (German Academic Exchange Service). This package deal includes health insurance, personal liability insurance and accident insurance.

For further information, please refer to the website of the Studentenwerk Freiburg.  For the DAAD package, consult www.daad.de/en.
FAQ Frequently Asked Questions about the Application Process
Q: English was the Language of instruction during my undergraduate studies. Do I still need to submit a TOEFL/IELTS score?
A: Even if you have done your undergraduate education in English you need to submit a TOEFL or IELTS score that meets the requirements of the admission board: TOEFL ibt 100, IELTS 7.0.
Q: All my application documents are complete except the TOEFL/IELTS score. Can I submit it at a later point?
A: If you have gathered all application documents except for your TOEFL/IELTS score, you may submit your application without a score report. In this case however, please include confirmation of your upcoming test date, so we know when to expect your results. Please note, you cannot be admitted to the program without a TOEFL/IELTS score. 
Q: When will the admission decisions be announced?
A: While the "turnaround time" varies in direct proportion to the number of applications received, and is therefore different every year, we strive to announce first-round results within 6 weeks of the application deadline. If you have not received notification about your application after this time, you are welcome to send an inquiry to:              
mep.admission@vwl.uni-freiburg.de
Q: I have not completed my first degree. Can I still apply?
A: You do not need to have your degree completed when applying for the program. However in case of admission you need to be able to submit your final Bachelor degree upon enrollment in October.
Q: How can my degree/transcript be certified?
A: All documents, including your undergraduate degree and transcript must be certified by an official third-party. This service is usually performed by a notary public, but in the case of official school documents, can be completed by an employee of your school's registrar.
Q: What is the minimum GPA requested?
A: In order to be admitted you need a grade point average (GPA) of 2,5* (German grading System) or better (which means lower according to the German system)
In order to know how to convert your GPA to the German grading System, you can apply as an orientation the modified Bavarian formula: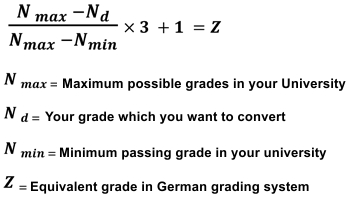 You can also access this pdf file provided by Geschäftsstelle der Wirtschaftswissenschaftlichen Prüfungsausschüsse.
Q: Is work experience required?
A: No, work experience is not a requirement for admission to the program. While most of our students make the transition from their undergraduate programs directly to Master Program, we have had many successful applicants with years of professional experience in between. Your employment history is of interest to us, so be sure to document it in your application.